Moderators: Rich196, babybmwadmin, marco_polo, Producethis
---
Actually, I've found your website


Sent from my iPhone using Tapatalk
---
Knowledgeable Member

Posts: 188
Joined: Tue Jun 16, 2015 9:56 pm
---
---
I have the same wheels on my M140i and did fancy spacers, but then it's springs and it's my daily and rides are so bad
---
---
I got them from my local dealer, just ask them for part numbers 51118056797 and 51118056798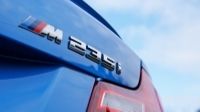 ---
---
Hi all, just signed up.. Moved over from being an avid Mercedes fan at the start of the year and am expecting delivery of my new M235i this weekend
Will upload pictures once it's in! Have really enjoyed scrolling through some of the photos on the thread - some lovely motors on here!
Cheers
Current: Jan 17 - M235i White - MPE retrofit

Gone:
C350 Mercedes AMG
Seat Leon Cupra
---
Now
- M235i Auto, Mineral Grey, 19" 405m wheels, M Performance front spoiler, CF rear spoiler, black gloss grills (From TRL)
Then
- M135i, 120d M Sport Coupe, Subaru Impreza (modded), Toyota Celica T Sport 190, VW Golf GTi Mk4 (modded), Saxo VTR
---
Junior Member

Posts: 30
Joined: Wed Dec 07, 2016 11:25 am
Nice car! I used to live in Leighton Buzzard so recognise that big office block well!
---
---
Return to "M135i/M235i/M140i/M240i"