So with all the great looking cars on this site I feel my little 1er is bit old and underpowered but hey its mine and I love it just need to keep it running and freshen it up a bit..
(would love a 135i or 140 but hey maybe when the kids have left home..!)
Going to do all the maintenance stuff first and getting it running right, quite handy with the tools so will doing most of it myself, then start on some tasty mods..
Bought this in June - 120d Sport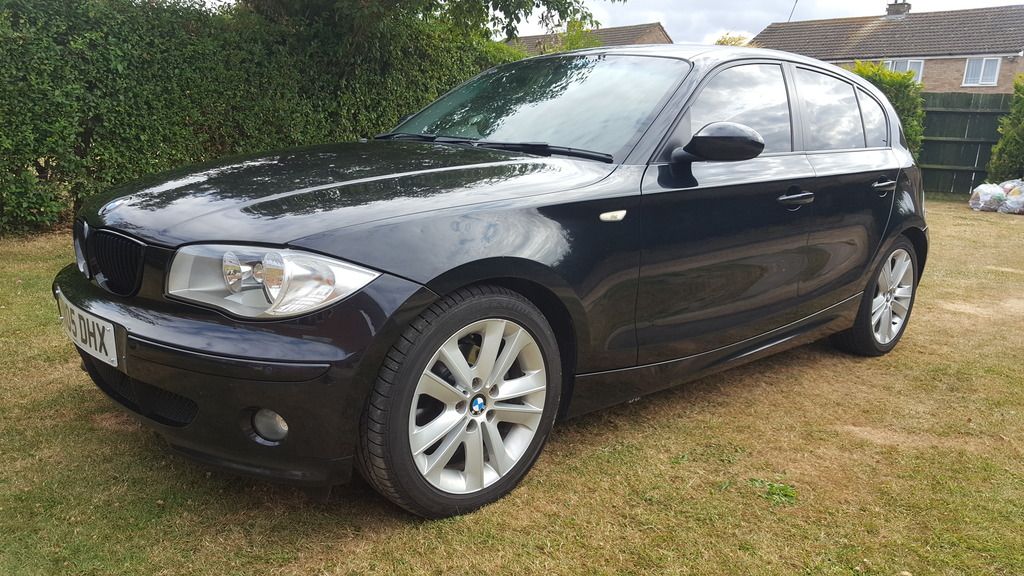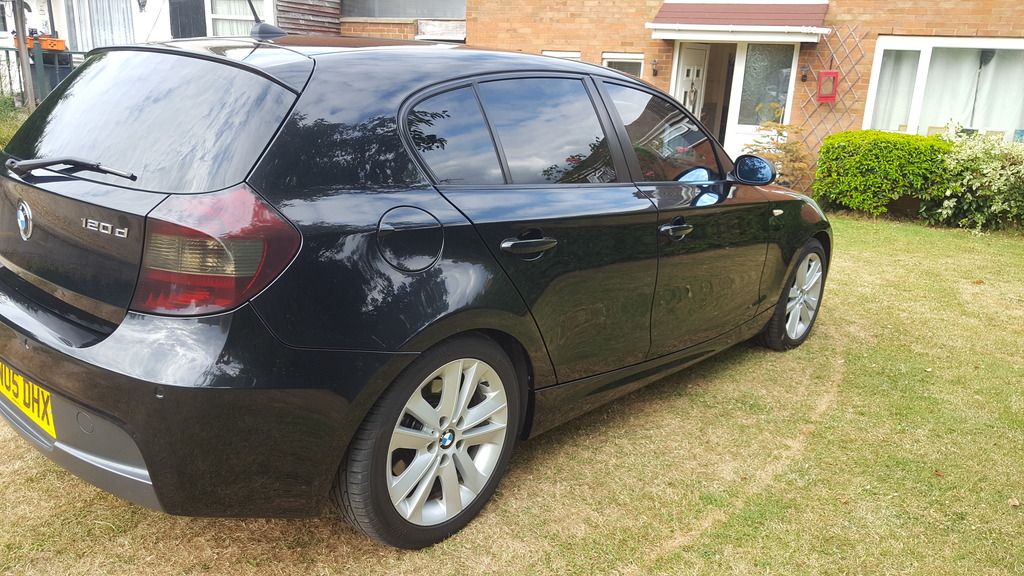 Black Front Grilles, Powerflow twin exit backbox, Full heated leather, climate control.. great drive, nice an tight.. virtually no rattles or knocks.. only 96,000 on the clock, 5 stamps in book.
Am undecided on the blacked out rear lights.. I will get some LCI's and fit them, see what they look like (I'm thinking better!!)
Tinted windows all round.. not so sure..?
What I want:-
Centre console changed to one with cup holders and arm rest
Multi function steering wheel
LCI rear lights
Get rid of the run flats
Re-map when engine healthy and serviced
What I need to do:-
Check running temperature - change thermostats - refresh coolant - Done
Check EGR - and clean - Done
Check oil - Change oil and filter - Done
Clutch Delay Valve (CDV) delete - Done
Clutch and DMF - need looking at - Done
Interior leather refresh - Done
Check Swirl flaps and remove
Gearbox oil change - Redline MTL 75w80 GL4
Diff oil change - Redline 75w90 GL5
So I got started...
96,500 - 29.06.18
Now first thing I noticed was on my 16 mile commute at 05:30am it would only get to around 65 to 70 degs and on the way home only 75 ish.. should be around 88 degs... and why don't we have a temp gauge.. what a palaver getting the actual temp!!
So first thing was to change main and EGR thermostats.. quite easy to do, read up the guide on here, just methodical stripping down and putting back on.. got my coolant from local BMW stealer.. was quite reasonable I thought... refreshed coolant.
Spend - Main thermostat Eurocarparts £35 EGR thermostat £30 Coolant BMW Lancaster £36
Whilst I was in there did the obligatory EGR clean.. wow was it coked up..!
Spend £0.00
96,800 - 04.07.18
Next came an oil and filter change BMW LL-04, real easy to do ..
Spend Oil and Filter ECP £25
While I was under there I also did the CDV delete.. (again followed the guide on here). Under car, mid tray removed, pulled silver wire clips off CDV, pulled pipe out, put thumb over end, pulled CDV off, inserted pipe into remaining clip, couple of teaspoons of fluid loss, hardly noticeable, did top up fluid a little, pumped clutch a few times, clutch worked as before. Has made quite a difference to the biting point and pulling away, more noticeable is the more precise 1st to 2nd change, glad I did it.. cheap easy mod..
Spend £0.00
97,000 - 12.07.18
Started wondering about the crankcase breather.. did I have the old loo roll type or the updated vortex.. well ... again followed the guide on here, just a matter of stripping back to get to it, taking it off, opening it up and swapping over to the new, then assembly is the reverse of the strip down.
Yep.. the old loo roll and from the state of it, it has never been changed, it was caked full and the foam was solid with gunk.. funnily enough the air filter looks quite new and clean!!
Anyway so changed the breather out for the new vortex type.. hopefully the turbo will be a bit happier..
Spend - Vortex filter GSF car parts £30
My lights had always been temperamental, just a guess as to whether they would like to be on or not, so had a look at them.. PO had installed a xenon kit, not very well... so ripped them out and put H7's back in.. perfect lights now..
Spend - 2x H7 Bulbs Phillips Night Vision Eurocarparts £19.99
97,200 - 17.07.18
Read up on the camber pin mod and decided to give it a go.. knocked out the pins, easy enough, jacked up the opposite side of the car and kicked the top the wheel and the strut fell over to the correct position, tightened up the nuts did the same to the opposite side.. took me longer to get my tools out then to do the job!!
This is how much I managed to shift them over.
Steering feels a bit heavier at lower speeds but going around the roundabouts through MK the car feel more planted and direct. Good cheap easy mod..
Spend £0.00
97,400 - 01.08.18
Saw the EGR restrictor mod and gave that a go, 22mm end cap purchased from local DIY store, 9mm hole drilled in end, unscrew the EGR clamps on the metal pipe and modified cap inserted.. simple.. hopefully that will protect the engine a bit more..
End Cap with 9mm hole drilled (its dirty as I had inserted for a couple of days then took it out for pics)
It goes in here..
Spend - 22mm pipe end cap Wickes £2.43 (pack of 2)
LOL... Spray tinted the side indicators..!! They push forward toward the front of the car then gently lift the front part and pull away, unplug electrical connector, spray, wait to dry then reassemble.
Spend - Can of tint spray £9 ebay had this in the shed from previous.
97,500 - 02.08.18
Well have been wondering about the clutch and DMF since I have had the car, when you rest your foot at idle on the clutch pedal there is a grating sound, no foot no sound, clutch all the way in, no sound.. can hear it at junctions when changing into 1st and also when pulling away and changing into 2nd.. so as I need my car to commute 40 miles a day I thought as a precaution I would bite the bullet and get them changed.. I got a few quotes ranging from £650 to £1200.. visited a couple of garages and decided on one quite close to me at £864.
Spend Clutchmaster MK £864
Well... WOW .. what a difference.. Clutch is now so light and easy to engage.. loving it... should be good for another 100k..
97,600 - 03.08.18
So the leather inside the car has probably not been touched in 97,000 miles so although not looking to shabby, leather is like skin and needs conditioning and moisturising... I use these.. great smell too..
Give the leather a good scrub with a damp hot cloth.. leave to dry.. use intense leather cleaner.. leave to dry.. there are some small scratches so I fill these with the leather dye.. just like old school shoe polish dab it on and rub it in.. I use it on the creases too.. spread the crease and dab the dye into the crease rubbing it in..
Before..
After..
Finish off with a large helping of Leather conditioner.. massaging it into the leather.. if like me this is the first time in years its going to take a lot of product and lots of rubbing.. the dry old leather will just soak it up and become more supple and soft.. take your time. Smells really good too.
And don't forget to do the door arm rests too..
Spend £0.00 products from the shed.
Onto the gearbox oil change, again from a guide on here, car up on ramps, mid under-tray off, undo to fill plug, leave in, undo bottom drain plug, catch oil, leave to drain, replace drain plug, fill from top until it flows out of fill hole, replace fill plug, should take 1.6ish litres of 75w80 GL4 manual transmission oil.
Spend - Redline MTL 75w80 GL4 £19.99 ltr x2 - £40